MotionX-GPS
MotionX-GPS HD
Open Street Map
UTM Resources
MGRS Resources
Report Generators
---
Adding and editing content in OpenStreetMap and OpenCycleMap
Note: You must create a (free) user account with OSM (OpenStreetMap) and be logged in before you can perform edits. As OpenCycleMap is based on OpenStreetMap, edits made to OpenStreetMap will be picked up by OpenCycleMap if applicable to the map type.
Tracing from satellite images: simple road and path additions
1) Go to http://www.openstreetmap.org/ and use the zoom control on left side of the screen to zoom in on the area in which you want to make updates/edits.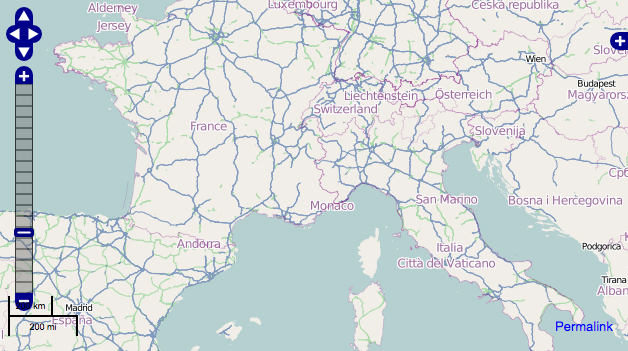 2) Click on "Edit" tab - the satellite view opens. Choose the "Edit with Save" option unless you are an experienced OSM map editor.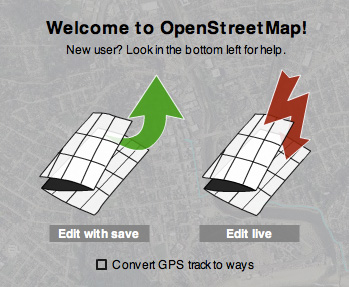 3) Identify the street(s) or path(s) you want to add to the map. Content already included in the OSM database is overlaid on top of the satellite image.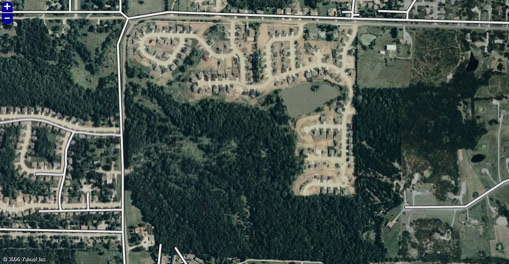 4) Use the drawing tool to trace a path along the street or path you are adding. Click once for each point and double click to end your path. If you make a mistake click the back arrow at the bottom left of the screen or press the "z" on your keyboard. You can also press the "Esc" key to clear all the points.
Tip: Click the check box icon in the lower left to open map options including the background.


Choose the OSM-Cycle Map or the Open Topo Map for a topographic map background.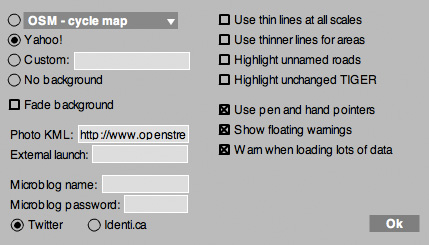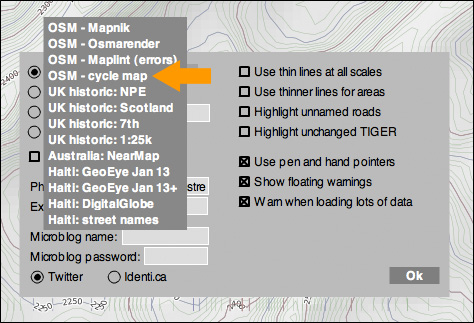 Existing features can also be moved or edited in this view. Use the details box in the lower left to classify the feature (primary road, secondary road, residential road, etc.). If you are adding a path not intended for automobiles, click the car icon to toggle to different classes (biking, pedestrian, boating, skiing, etc.). You can also use this tool to add a name to the feature if applicable.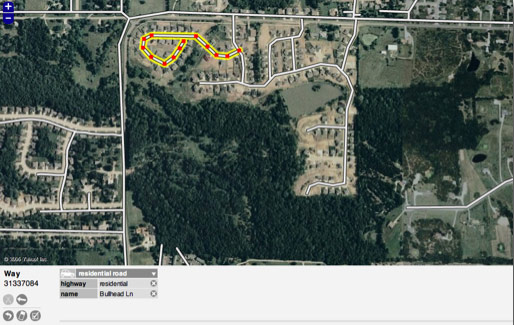 5) When you click off your new path, click the Save button in the lower right to upload your changes to the OSM server. It may take 1-2 days before it shows up on the main map for everyone to see, so please be patient.
---
Tracing GPX files created with MotionX-GPS:
1) From MotionX-GPS, email the track you wish to add to OSM to yourself and save the attached GPX file to a directory on your computer.
2) Log into OSM and click on the "GPS Traces" tab at the top of the page. Browse for your GPX file location, provide a brief description, then upload. After uploading it may take up to several hours for your track to become available (depending on server traffic), but often it's available within a few minutes. Select Edit link. This will overlay the track on a satellite view.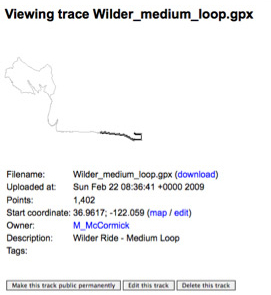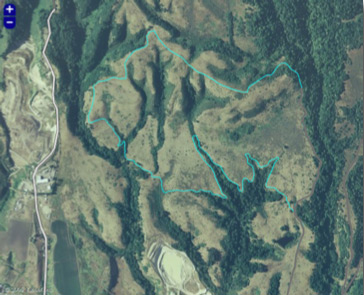 3) Trace over the track, clicking point-by-point to capture all the detail. Use the details box on the bottom left to define the track type. Click off the track and it will automatically be uploaded to the OSM database. It may take 1-2 days before it shows up on the main map for everyone to see, so please be patient.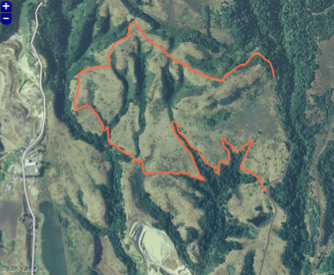 Edit Panel Key:

---
OSM Resources
General info:
Wikipedia - OpenStreetMap
Map Features Key - OpenStreetMap
Official OSM information on editing:
Editing FAQ
Beginners Guide

Instructional videos:
Adding and Editing Tracks
Compare OSM vs. Google Maps
Use this web based tool to compare OpenStreetMap with Google Maps - this is very helpful for adding content to OpenStreetMap.
OSM comparison
---
UTM Resources
UTM Zone Map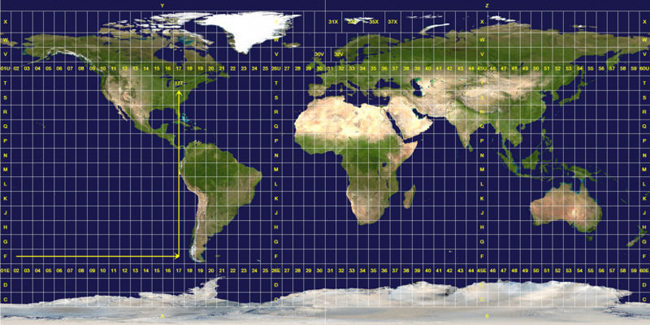 Full resolution map (2,048 x 1,024 pixels, file size: 821 KB)
UTM description - Wikipedia
UTM fact sheet - USGS
UTM Zone Lookup
This utility finds Universal Transverse Mercator (UTM) zone and its central meridian for a given geographic coordinate. by APSalin
---
Military Grid Reference System (MGRS) Resources
The Military Grid Reference System (MGRS) is a standard used by militaries for geo-referencing and locating specific areas on the surface of the earth. The MGRS is similar in nature to the UTM (Universal Transverse Mercator) grid system, and in fact was derived from UTM, but the labeling convention used by MGRS follows a different set of rules. MGRS is used between the latitudes 84°N to 80°S; the polar regions are based on the Universal Polar Stereographic system.
An MGRS coordinate, or grid reference, describes a square area of 10x10 km, 1x1 km, 100x100 m, 10x10 m or 1x1 m, depending on the precision of the coordinates provided. All points within that square share the same MGRS coordinate (note the grid reference does not describe a single point on the earth's surface like a standard latitude/longitude coordinate). The total number of characters must be 7, 9, 11, 13, or 15, respectively, depending on the desired precision (additional digits define higher precision).
First two characters:

Represent the 6° wide UTM zone (although there are a few exceptions).
Leading zeroes are included so that Zone 9 is labeled "09".
For polar areas outside of 84°N to 80°S these characters are omitted.
Third character:
Letter designating a band of latitude.
Beginning at 80°S and proceeding northward, the 20 bands are lettered C through X, omitting I and O.
The bands are all 8° high except band X, which is 12° high.
Outside of 84°N to 80°S: A and B are used near the south pole, Y and Z near the north pole.
The vertical UTM boundaries and horizontal latitudinal band boundaries form 6° X 8° Grid Zones. Therefore the first three letters of the MGRS value (e.g. "10S"), are referred to as the Grid Zone Designation (GZD).
Fourth and Fifth characters:
A pair of letters designating one of the 100,000-meter grid squares within the grid zone.
Remaining characters consist of the numeric Easting and Northing values within the 100,000-meter grid square.
For example:
10S ...................3 characters - GZD, precision level 6° x 8° (in most cases)
10SEG .................5 characters - GZD and 100km SQ_ID, precision level 100 km
10SEG83 ...............precision level 10 km
10SEG8532 .............precision level 1 km
10SEG859321 ...........precision level 100 m
10SEG85933214 .........precision level 10 m
10SEG8593132144 .......precision level 1 m
The MGRS grid around Hawaii. Honolulu is in 4QFJ15.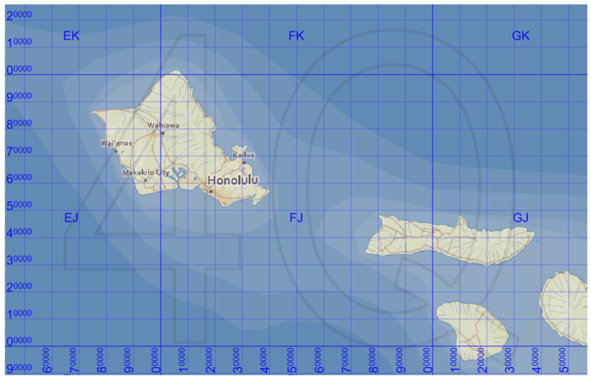 MGRS to (Lat,Lon) conversion tool:
---
Report Generators
GPS Visualizer- Do-It-Yourself Mapping
GPS Visualizer is a free, easy-to-use online utility that creates maps and profiles from GPS data (tracks and waypoints, including GPX files), street addresses, or simple coordinates. Use it to see where you've been, plan where you're going, or visualize geographic data (business locations, scientific observations, events, customers, real estate, geotagged photos, etc.).
GeoLadders - Create Routes, Rides, Races using GPX files from MotionX-GPS.
GeoLadders is a GPS based website offering detailed route information for various sports such as mountain biking, road biking, walking, running, etc. GeoLadders hosts 'free' weekly, monthly, and yearly amateur competitions based on a user's completed routes. Results are dynamically displayed as a ladder (competitors listed in order of their rank/points). Routes in Geoladders are assigned a point value based on distance, ascent and difficulty, every route ridden adjusts a riders ladder rank. It's motivating, healthy and good fun! Create your own tracks, play them back and share them with friends.
To upload your GPX track to GeoLadders do the following:
Sign up for a GeopLadders Account - Sign up
Go to: GPX Create Route
Name your route and Browse for your GPX file
List your GPS model: MotionX-GPS on iPhone 3G or 3G S
Google Earth
Google Earth lets you fly anywhere on Earth to view satellite imagery, maps, terrain, 3D buildings, from galaxies in outer space to the canyons of the ocean. You can explore rich geographical content, save your toured places, and share with others.

Drag and drop your GPX or KML files created with MotionX-GPS to plot your tracks and waypoints in Google Earth. Another great benefit for flying - you can see your track rendered in 3D like the screen shot below.
1. Drag your KMZ file shared from MotionX-GPS into Google Earth.
2. Now, in the left navigation bar you will see your track under the Temporary Places folder.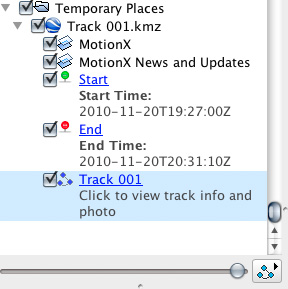 3. Right click "Track 001" (in this example) and then click "Get Info" This will open a dialog box. Change the drop down menu to Absolute, then click "Extend path to ground." This will drop verticle lines from your track to the ground. Then click "Style, Colors" if you would like to adjust the colors. Then click OK. Then you can rotate your view so that you can see a similar view the the below image. (hanglider flight path)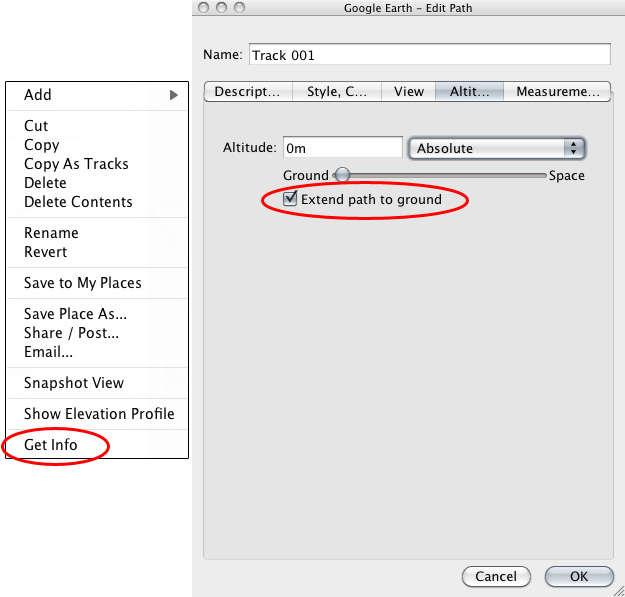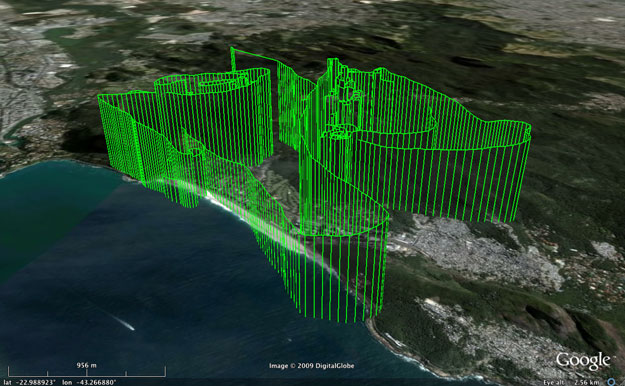 4. Additionally, you can replay your track. Simply click the Track component of the KMZ file to highlight it. Then click the button in the lower right corner. (arrow points to it below)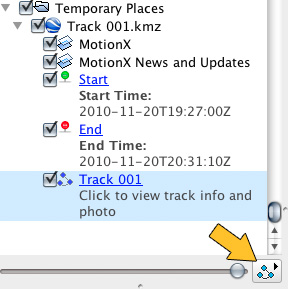 Where's the Path?
For MotionX-GPS users in the UK, upload GPX files to chart your journey on Ordnance Survey® maps. The same path is plotted on an adjacent Google aerial map and includes (lat,lon) coordinates.
HoudahGeo - Geotag photos: One stop geocoding for the Mac
Use MotionX-GPS to record a track, take photos with any digital camera during your track and then use HoudahGeo to geotag your photos along your track. Try out the free demo.
Set your digital camera's clock as closely as possible to your iPhone's time. HoudahGeo lets you correct the time of the photos + or - a few seconds if you can't match them exactly.
Launch MotionX-GPS and acquire a signal (spinning blue globe).
Start the MotionX stopwatch at the same time you take your first picture with your digital camera.
Record your track, stopping occasionally to take a photo.
When you are done with your track, stop the stopwatch and save the track, then send the track to yourself via email.
Upload your photos to HoudahGeo and correct the time if necessary.
Upload the GPX track to HoudahGeo. The coordinates will be filled in automatically next to each photo.
Select Export to Google Earth for an alternative viewing option.
Below is a sample track from HoudahGeo (track and photos recorded while walking on the top level of a parking garage). Clicking the pink camera icons would display the photo taken at that location.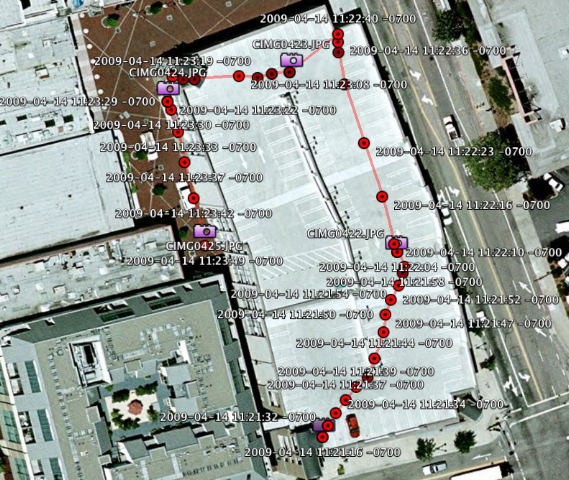 Great Circle Distance and Bearing Calculation
This utility uses WGS84 approximation to calculate great circle distance and bearing between two geographic points. by APSalin
Destination Calculation
This utility calculates destination geographic coordinate based on the distance, bearing and starting geographic coordinate, for commonly used Earth ellipsoids. by APSalin
Identify Lat Lon Coordinates
Identify latitude and longitude coodinates on Google Maps with just web browser -- eliminates the need for Google Earth for this function. Create a single waypoint or an entire path. Can use the export tool to generate files in the following formats: CSV, TXT, TAB, BLN, DXF, KML, GPX, SHP
File Conversion
Convert a GPS file to plain text or GPX
www.gpsvisualizer.com
This form reads a tracklog or waypoint file (in a recognized format) or plain-text tabular data, and converts it to an easy-to-read tab-delimited or CSV text file, or to a GPX file.
Convert your GPS data for use in Google Earth
www.gpsvisualizer.com
This form will import your GPS data file, or plain-text data (tab-delimited or CSV), and create a KML file that you can view in the Google Earth application or import into Google's "My Maps" system.